Security is a fundamental human need. Every individual has the right to a safe living or working environment that is free from malicious threats such as data theft and trespassing. In modern times, traditional security measures like double-locking doors and windows or installing a CCTV camera may not be enough to guarantee security. Today, security also refers to health safety, as the country is still mandated to follow social distancing and health protocols amidst the threat of the ongoing COVID-19 pandemic.
Suprema has provided a solution that meets all types of safety needs with the Suprema Biostation 3.
What Is the Suprema BioStation 3?
The Suprema BioStation 3 is among the leading access control systems in the Philippines that offer tighter security on all points of entry within an establishment or organization. It also offers multiple authentication options to ensure that only those who are authorized are given access. The Suprema BioStation 3 comes in a more compact form than its predecessor, but it is equipped with a wide variety of features.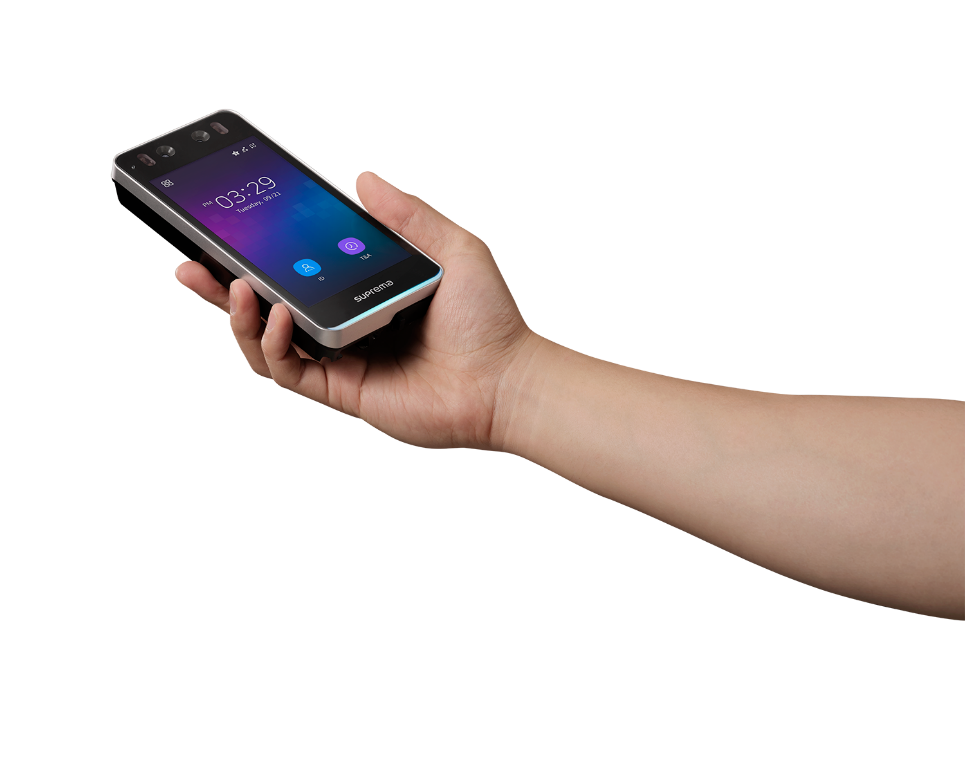 Multiple Contactless Access Methods
Offering a host of safety features and at the same time putting user convenience at a premium, the Suprema BioStation 3 has quickly become a favorite among door access control solution suppliers in the Philippines. The system provides a selection of contactless authentication methods through mobile access, QR codes and barcodes, facial recognition and RFID cards.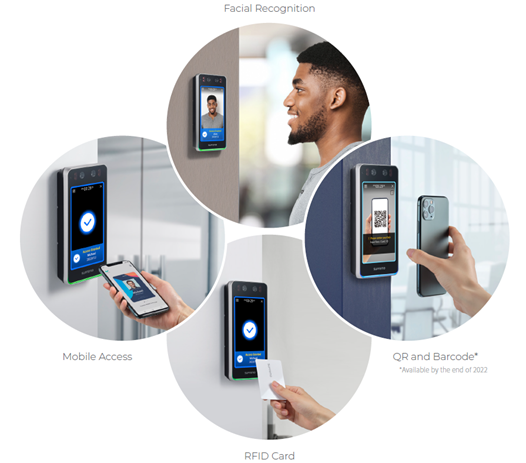 Flexible Application in Any Environment
Designed for use in large organizations, medium-scale businesses, small sites, and homes, the Suprema Biostation 3 is easy to operate and install. With a reduction of 47% from its previous model, this new model is simple yet equipped with advanced features. Some of these features include less wiring and faster installation via Wi-Fi and POE+ support, a custom USB host connected to a SIM slot, and suitability for indoor and outdoor use.
Fast and Smart AI Optimized for Facial Recognition Access
As facial recognition systems in the Philippines become more well-known and accessible, the demand for access control solutions like the Suprema BioStation 3 has also increased. Suprema Biostation 3's facial recognition has a stellar standard in facial recognition with the use of a Neural Processing Unit (NPU) that powers up its AI engine. Furthermore, Suprema's accumulated two decades of experience and knowledge as an access control provider enables it to equip the BioStation 3 with its most advanced facial recognition capability.
The Highest Level of Privacy Protection
With data protection as one of its core competencies in providing services to its clients, the Suprema Biostation 3 is ISO/IEC 27001-certified as excellent for the protection of privacy and biometric data. It is also made to adhere to the standards set by EU's General Data Protection Regulation (GDPR). On top of these, secure elements are incorporated to combat and prevent numerous cyberattacks, and a penetration test is administered by a credible institution to gauge the BioStation 3's protection features.
Easy Communication Across All Access Points
Users of the Suprema Biostation 3 can have access across all doors through its access control system, which enables communication via a VoIP intercom that is supplemented by video monitoring via a real-time streaming protocol.
Suprema BioStation 3 Specifications
Some of the BioStation 3's specifications are:
RF credentials - These include RF option, RF read range, mobile capabilities, barcodes, and QR codes.
Hardware specifications - Some of the Suprema Biostation 3's hardware specifications include a CPU that has a 1.5GHz Quad Core, Memory of 32GB Flash + 4GB Ram, Sound of 16bit, and a Camera with 2MP x 2EA (Visual, IR).
Facial recognition specifications - The Suprema Biostation 3 prides itself in having a recognition distance of 0.6 ~ 1.0 m (23.6"~39"), a height recognition of 1.4 ~ 1.9 m (55.1"~74.8"), and a matching speed with less than 0.3 sec.
Capacities - In terms of capacity, this technological tool has a Max. User 100,000, Max. Credential (1:N) Face: 50,000 and Max. Credential of (1:1) Face: 100,000 / Card: 100,000 / PIN: 100,000
Interfaces supported - The Suprema Biostation 3 is also equipped with an Ethernet (10/100/1000 Mbps, automatic MDI/MDI-X), Wi-fi (802.11 b/g/n 2.4GHz), and extended USB.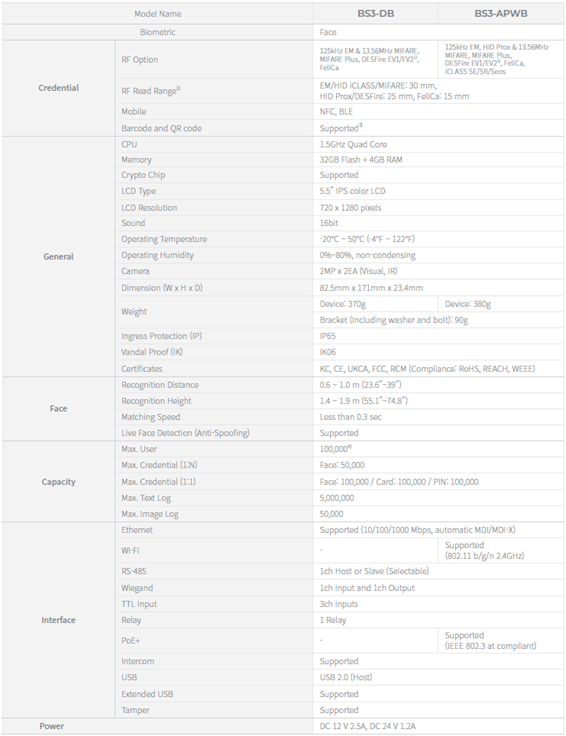 What makes the BioStation 3 different from others on the market?
Amidst a plethora of access control solutions available on the market today, the Suprema Biostation 3 stands out amongst the crowd in terms of its contactless access control terminal that is deliberately designed for advanced facial recognition, especially in today's post-COVID time. Furthermore, this tool is fashioned in a sense that users will experience increased usability and take advantage of its slim and compact size, which is fitting for the developing mobile biometric system in the Philippines.
Which sectors will it be applicable to?
The Suprema Biostation 3 is targeted at a wider audience as it can be used by big corporations, businesses, small establishments, condos, and even houses. Government offices and sites can also utilize this access control system as the time attendance system in the Philippines becomes stricter and is implemented on a wider scale.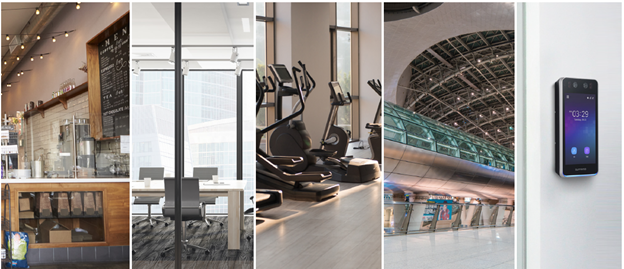 You can read more about Suprema Biostation 3 HERE.
Security should not be compensated at all times. Prioritizing this aspect of one's basic needs indicates the care of an individual for his hard-earned property, assets, and valuables. But also, this reflects one core principle of human beings, which is to protect and value one's life through security.
Hitec International is a trusted biometric supplier in the Philippinesthat offers a series of contactless security solutions such as the Suprema BioStation 3, which guarantee that everyone is protected and safe as they go on with their daily lives. Call us at (632) 8724-0191 to learn more about our access control system products.