Minimizing contacts in common touchpoints can help reduce the COVID-19 spread. Entrance handles, biometric readers, elevators, and other high traffic areas can be prone to bacteria and viruses in commercial buildings and offices. Fortunately, a range of touchless solutions in the Philippines can be installed to keep up with the demands and needs of the current health protocols.
Suprema X-Station 2 has flexible credentials for an access control system supporting RFID cards, mobile access, and QR codes. Aside from proper sanitation and other health and security measures, make everyone feels safe and secured with versatile touchless security solutions incorporated in your premises.
Suprema X-Station 2 is a powerful asset with ample functions. Aside from its multi-credential terminal, the X-Station 2 is well-equipped with features that enhance security and safeguard user data.
What is Suprema X-Station 2?
A versatile intelligent terminal, Suprema X-Station 2 offers ultimate flexibility in terms of credential options and system design that supports RFID cards, mobile access, and QR codes. Its extensive interface support uses Power over Ethernet (PoE) for convenient installation with less wiring.
Suprema X-Station 2 capabilities and advantages include:
Multi-technology Terminal with Various Credential Options – It offers multiple credential options of RFID cards, mobile access, and QR codes. Using a smartphone as credentials and QR code authentication allows users to go mobile, card-less, and carefree.
Comprehensive RFID Card Compatibility – It features dual frequency reader LF(125kHz), HF(13.56MHz) that reads various card types (EM/MIFARE/iCLASS/DESFire/FeliCa).
Enhanced Security and Data Protection – The device is equipped with a secure boot process that protects data, a built-in camera capturing image logs, and an Open Supervised Device Protocol (OSDP) that guarantees optimum security.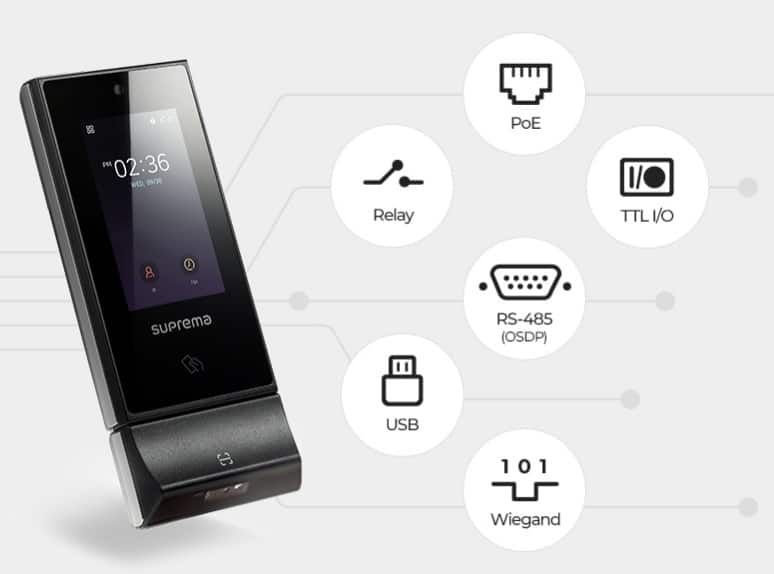 Designed for Easy Deployment and Management – Suprema X-Station 2's Power over Ethernet (PoE) allows convenient installation with less wiring. Its dust-tight and waterproof IP65 protection features are designed to fit any surroundings.
Improved Usability of Android UI on Touchscreen – Suprema X-Station 2's 4" wide capacitive touchscreen allows quick, easy access and a customizable display on intuitive Android GUI.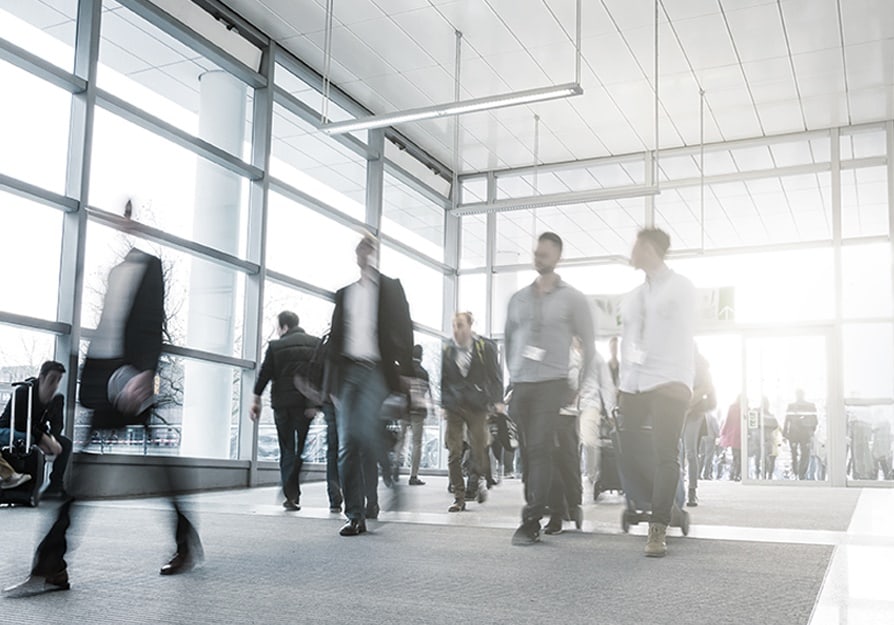 Expanded Capacity for more users and security logs – The device boasts its large memory of 16GB Flash + 1GB RAM which caters to 500,000 users, 5 million text logs, and 50,000 image logs.
Suprema X-Station specifications
RF Option per model – XS2-DPB XS2-QDPB: 125 kHz EM & 13.56 MHz MIFARE, MIFARE Plus, DESFire EV1/EV2*, FeliCa and XS2-APB XS2-QAPB: 125 kHz EM, HID Prox & 13.56 MHz MIFARE, MIFARE Plus, DESFire EV1/EV2*, FeliCa, iCLASS SE/SR/Seos
Mobile Card – NFC, BLE
QR or barcode – XS2-QDPB and XS2-QAPB are supported
CPU – 1.5 GHz Quad-Core
Memory – 16 GB Flash + 1 GB RAM
Max Users – 500,000
Max Logs – Text 5,000,000 / Image 50,000
LCD – 4" IPS color LCD / 480 x 800 pixels
Camera – CMOS 2M pixels / 1600 x 1200
Ethernet – Supported (10/100 Mbps, auto MDI/MDI-X)
IP Rating – IP65
What makes Suprema X-Station 2 outstanding and different?
One of the remarkable features of Suprema X-Station 2 is its module concept. The high-end RFID solutions with a touch screen let the device read QR codes conveniently by simply attaching the QR module to it. X-Station 2 boasts its versatility while maintaining an excellent design and performance through the standard interface and its base terminal. The future module of this device is yet to come with additional cutting-edge attributes and capabilities.
Who can use Suprema X-Station 2?
Suprema X-Station 2 can be used in a range of applications, specifically in terms of temporary verification. Any businesses that require multi-factor access control for improved security, time tracking and attendance monitoring of employees, and HR management functions can benefit from the device. Additionally, its QR code feature has become popular for contract tracing due to the COVID-19 pandemic. Its ability to store personal information of anyone that visit facilities geared with touchless solution aids in tracking and breaking chains of coronavirus transmission.
The versatility of Suprema X-Station 2 is highly beneficial in several entities to enhance their management and control as well as enhance the security and safety within the area. The device is designed for multiple applications without sacrificing the design system. Users can go cardless and carefree with mobile access and QR code authentication by using smartphones as credentials.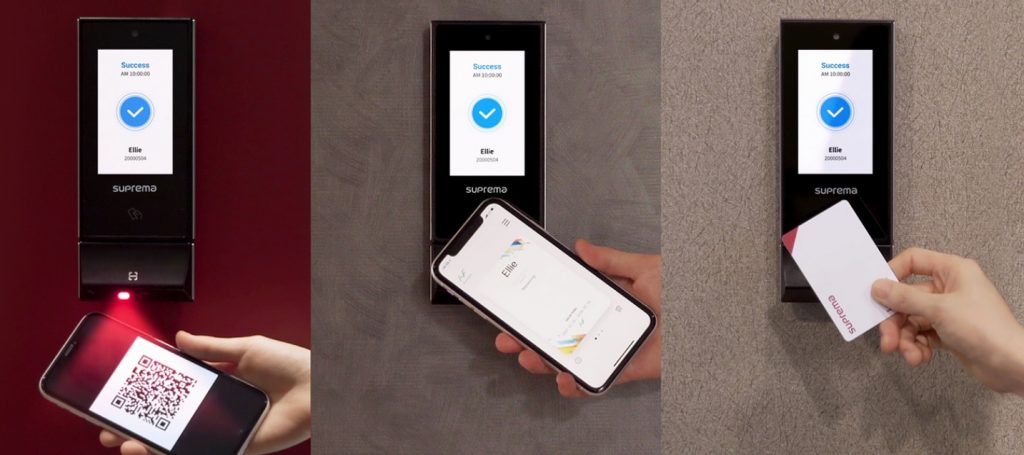 With the ongoing threat of COVID-19, having contactless and non-face-to-face machines is an important element to prevent the spread of the virus. The use of a touchless access control system in public and corporate buildings and facilities can greatly help in minimizing physical contact within employees, residents, or visitors within the property.
HITEC International Corp. is the leading provider of electronic identification and highly reliable security solutions in the Philippines. We utilize RFID, biometrics, video analytics, intelligent controllers, and wireless technologies for a range of system applications.
We offer access control systems micro access C software, door access, and smart gates for optimum security and control.
For inquiries, call us at (632) 8724-0191 today!