In our current "new normal" situation, touchless access control has become essential as well. Spread of the novel coronavirus has jolted awareness of hygiene as it relates to touching surfaces such as keypads.
No longer in favor are contact-based modalities including use of personal identification numbers (PINs) and keypads, and the shift has been sudden and long-term. Both customers and manufacturers were taken by surprise by this aspect of the virus's impact and are therefore scrambling for solutions.
Immediate impact of the change includes suspension of time and attendance systems that are touch-based. Some two-factor authentication systems are being downgraded to RFID-only, abandoning the keypad and/or biometric components that contributed to higher security, but are now unacceptable because they involve touching.
Suprema Mobile Access
Thankfully, the security technology sector has stepped up with new innovative technologies for touchless access control, such as the Suprema Mobile Access.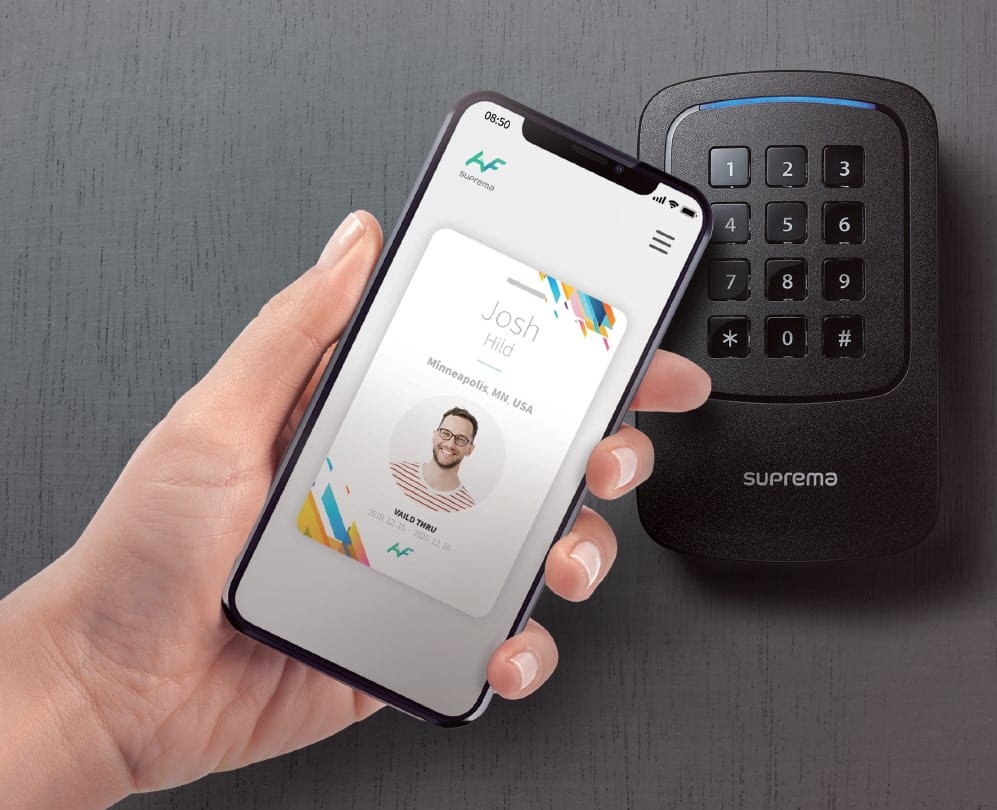 The Suprema Mobile Access System provides tighter, but more convenient security; taking into account the risks of close physical contact with the usual security measures. This innovative touchless access control technology allows you to use your own smartphone as a key to access doors, facilities, and more. By using your smartphone as a credential, managing and using an access card becomes easier, faster, and safer.
Feature-Rich Security Solution
Suprema Mobile Access' features include:
Fast and easy contactless solution – no access card needed
Supports NFC and Bluetooth wireless technologies
Widely compatible with both Android (9.0 or above) and iOS (7.0 or above)
Always active, background mode in your smartphone
Protected by ISO 27001 certified system architecture
Flexible Applications
In addition to those features mentioned, Suprema Mobile Access is a highly flexible touchless access control system, for it can integrate with existing security systems thru the Suprema Airfob Portal. With this security system API, you can build your own fully functional access control system with mobile access.
This touchless access control system can be applied to various public sectors, including:
Government offices and facilities
Enterprise and corporate offices
Residential buildings and apartments
Healthcare facilities
School and educational institutions

The pandemic has presented us with new challenges, more so in the health and security front. Fortunately, medical science has come a long way and so has access control technology. Modern touchless access control systems, in particular smartphone and face recognition, can prove extremely effective in checking the spread of infections and enforcing COVID-19 related workplace security regulations.
Suprema Mobile Access combines the features of both and adds a custom-built health module to make return to work safer and easier for all.
Find out more about the Suprema Mobile Access and its diverse features that will help you enhance physical and health security in the workplace. Call Hitect International at 0917 844 6331 | 0998 999 3543 for more information.