A payroll system is a centralized program designed to help businesses and organizations by automating and overseeing all payroll operations, from the process of employee payments to filing employment taxes. In addition, this simplifies the task of tracking work hours and attendance, calculating compensation, deducting taxes and expenses, and reporting government income taxes.
Key Components of Philippine Labor Laws for Payroll System
To provide accurate payroll services, a company or provider must understand the main components of the Philippine Labor Laws for payroll system, including:
Compliance with DOLE - The Department of Labor and Employment (DOLE) develops and enforces labor and employment policies. An automated payroll system ensures compliance with laws while automating employment payments.
Minimum Wage - Philippine minimum wage rates depend on several factors, including the region, company size, and type of industry, as well as the number of employees and revenue.
Leaves - Service incentive leave is available to employees with a minimum of one year's service to the company. These five days of paid vacation are convertible into cash if not utilized.
Overtime and Night Shift Differential - The overtime rates vary depending on when overtime is performed, such as on a regular workday, a holiday or a rest day. In addition to the regular salary, employees working between the hours of 10 p.m. and 6 a.m. receive night shift differential (NSD) pay.
Holidays - Holiday pay must be paid to employees who work on public holidays, with the employee's daily rate adjusted by the holiday rate, whether it is a regular or special holiday.
Contributions - In the Philippines, both companies and employees are required to contribute to government benefits, including the Social Security System (SSS), Philippine Health Insurance Corporation (PhilHealth), and the Home Development Mutual Fund (PAG-IBIG).
COLA and 13th Month - Every employee in Region III is entitled to a P20 cost of living allowance (COLA), regardless of their position and salary. An employee who has worked for a company for at least one month is entitled to 13th-month pay.
Benefits of Payroll System
Some of the key benefits of using a payroll system for the user, the employees, and the organization are as follows: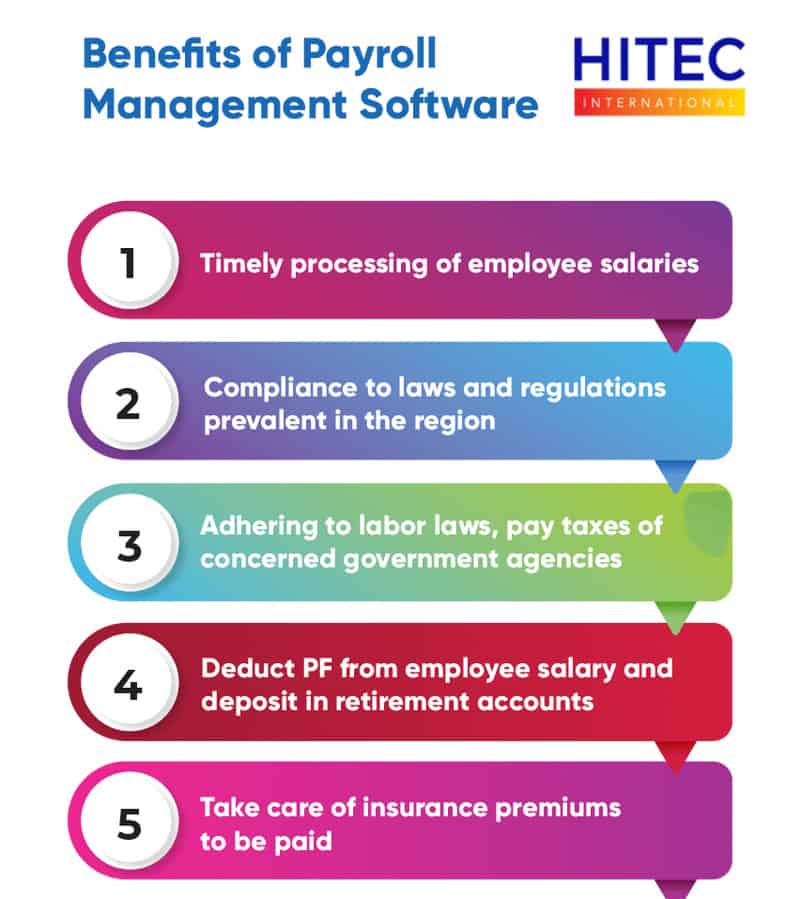 Efficiency - One of the main advantages of using payroll system software is its ability to simplify and cut processing time. This software also helps to save time and money and ensures all employees are paid on time and the business runs smoothly.
Accuracy - Thanks to the automation of the entire process, payroll software provides reduced errors, a seamless user experience, and precise results.
Security - Using reliable payroll system software ensures all personal information is securely locked down and cannot be accessed by anyone outside of the organization. Some security features of payroll software include multi-factor authentication, firewalls, and encryption.
Compliance - Payroll software enables a business to stay compliant with company policies, tax regulations, and filing requirements. It also provides the ability to easily input changes without causing errors.
Choosing the Right Payroll System
The payroll process can be complex, tedious, and time-consuming when handled manually, which is why many companies are now investing in integrated payroll software.
Types of Payroll Systems Available
Bookkeepers and CPAs - These are professionals with expertise and flexibility to handle payrolls and tax records.
Payroll Services - Payroll services firms offer administration services to ensure that payroll requirements are met.
Online Payroll - This software solution provides automated tax filing and administrative services and allows access to payroll information 24/7 from a secure server.
Factors to Consider When Selecting a Payroll System
Businesses might consider payroll software or payroll service providers due to the following factors:
Support and Customer Service - An effective payroll software solution delivers beyond customers' expectations by providing exceptional customer service.
Integration - Payroll software should be capable of performing all tasks, including data import and export, business resource planning, HR management, and attendance monitoring, with the help of a biometric supplier in the Philippines.
Cost - Businesses should have access to cost-effective and reliable software to complete their tasks efficiently. Prior to purchasing software, check for hidden charges such as installation, upgrades, and maintenance.
Convenience - With payroll software being automated, organizations are able toreduce costs, ensure timely payment of employees, and maintain smooth business operations.
PayCheK: A Full-Featured Payroll System
PayCheK is an onlinepayroll system that features a user-friendly interface and enables 24/7 payroll processing.
PayCheK's Main Features
System Integration with HRMS - This software fully integrates with all other applications offered by the CheK HRMS Suite, including TimeCheK Time Attendance and IDenChek HRIS, which can be accessed at any time.
Multiple Modules - As an automated payroll system, PayCheK is equipped with numerous payroll modules, including earnings, allowances, reimbursements, and deductions.
Report-Generation - PayCheK provides various payroll reports, such as reconciliation reports, performance reports, management information system (MIS) reports, and personalized salary declarations and registers.
PayCheK is a fully featured payroll system for businesses in the Philippines that offers a comprehensive platform that combines all payroll functions seamlessly, including time and attendance, payroll, benefits, and compliance. Organizations of all sizes can streamline HR and payroll functions without having to deal with complicated data entry or tax regulations.
Hitec International Corp. provides an extensive line of HRMS products, including PayChek Payroll. As a trusted supplier of business management systems in the Philippines, Hitec is committed to providing businesses with comprehensive solutions.
These solutions, including Biometrics Philippines and access control system Philippines, help improve overall productivity, flexibility, and efficiency.
To learn more about Hitec International products, you maycall us at (632) 8724-0191 or e-mail us at info@hitec.com.ph.