What is HRMS?
A human resources management system (HRMS) is centralized software designed to assist organizations in effectively administering internal human resource matters. The system optimizes all HR functions, including workforce management, payroll processing, recruiting, performance evaluations, and attendance tracking.
HRMS plays an important role in facilitating a smooth and efficient HR operation and improving the organization's performance. Using the platform, organizations can automate a number of processes, minimize errors and reduce operational costs.
Main Functions of an HRMS
Choosing the right HRMS for your organization requires consideration of its functionality. Among the main functions of HRMS are:
A. Candidate Management
An HRMS offers an employee onboarding feature that allows HR personnel to track and monitor candidates from various recruitment portals and websites in real time to help simplify the hiring process and improve recruitment collaboration.
B. Employee Engagement and Management
The HRMS includes employee management capabilities for the storage and retrieval of employees' personal information and performance data within a database. The system also fosters employee engagement through training, career development, and recognition.
C. Workforce Optimization and Management
With HRMS, organizations can optimize HR processes such as monitoring attendance and development, carrying out management evaluations, enforcing disciplinary measures, and ensuring employee safety.
D. Payroll Management
One of HRMS's primary functions is to simplify payroll processing by offering a range of payroll support services. Through this software, employees can update their elective deductions, tax withholdings, direct deposit accounts, and access their earnings statements.
Main Features of an HRMS
Depending on the software, an HRMS is comprised of the following features:
A. Reporting and Analytics
HRMS provides the capability to generate operational reports on HR information, prepare compliance reports, establish key performance indicators (KPIs) to measure HR processes, and incorporate HR metrics into financial dashboards for business planning.
B. Centralized Employee Records
It manages all employee records in an automated database, enables more effective reporting and reduces costs associated with compliance and audit preparation.
C. Benefits and Rewards Administration
The system facilitates plan design, eligibility rules configuration and payment or deposit processing for benefit providers, in addition to providing a self-service enrollment process and combining benefits with accounting.
D. Learning and Talent Management
This feature is designed to help employees develop or acquire skills through training courses, testing and certifications and tracking compliance training. HR professionals can also administer performance evaluations, career planning, and aptitude tests.
E. Time and Attendance
The system can be used to record employees' time-off requests and balances, scheduling and absence management, and also incorporate timecards into payroll processes.
F. User-Friendly Interface
As a user-friendly software, HRMS features employee and manager self-service, mobile apps, dashboards, automated workflows, access controls and notifications designed to reduce the number of inquiries.
G. Talent Acquisition and Planning
HR professionals can utilize this feature to onboard candidates through automated recruitment processes such as building career pages, managing resumes, tracking candidate profiles, and conducting initial screenings.
CheK HRMS - The Complete HRMS Solution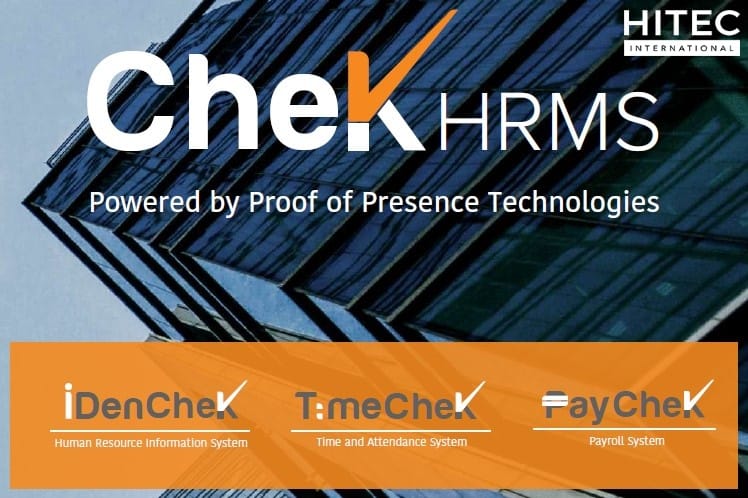 CheK HRMS is an HR management system in the Philippines that provides integrated solutions for payroll, human resources, and time management. Its three main modules include TimeChek, IDenChek, and PayCheK. Here's how CheK HRMS' system flow works:
IDenCheK Human Resource Information System (HRIS)
Easily access, analyze, and report on details associated with human resources.
Make good use of data by making it accessible to the right people through a central system.
TimeCheK Time and Attendance System
Provides all the control and information needed to effectively manage employee attendance:

Ability to manage payroll
Handling employee absence
Request for time change
Separate overtime settings
Time log/biometric settings

More secure and help reduce or even eliminate attendance fraud.
PayCheK Payroll System
Fast, reliable, hassle-free payroll computations.
Payroll system solution design for the Philippines.
Flexible in accommodating both private and government sectors.
Employee Self Service Portal
Empowering employees to take control of their own time management while reducing HR administrative work. This allows the HR to focus more on the company's Human Resources goal.
Reports
One-click generation of HR, timekeeping, payroll & government reports.
Integration
Integration with Third-Party application or software.
Learn more about CheK HRMS HERE.
Having a fully functional, robust software application such as an HR management system (HRMS) is essential to the development and expansion of an organization.
This system helps in automating and streamlining key HR operations, including employee data storage, time and attendance, performance review and payroll management. It also increases the efficiency and accuracy of employees.
As a trusted provider of business management system products, Hitec International Corp. is committed to delivering effective human resources management solutions to organizations of all sizes.
For more information about Hitec International products and services, please call us at (632) 8724-0191.