What Are RFID Tags?
RFID tags are small, electronic devices that are embedded with a microchip and an antenna. These tags are capable of transmitting information to an RFID reader via radio waves. RFID tags can be attached to assets, such as products, equipment, and inventory, to enable automated identification and tracking. The information that is transmitted by RFID tags can be used to monitor the movement, location, and condition of assets in real-time.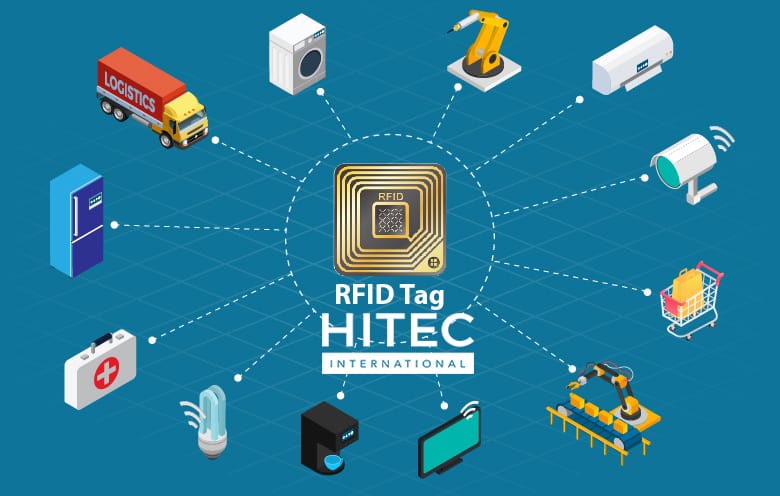 How Do RFID Tags Work?
RFID tags are activated by a signal from an RFID reader. The reader emits a radio frequency signal that is picked up by the antenna in the RFID tag. The tag then transmits the information stored on its microchip back to the reader via radio waves. This information can include the unique identifier of the asset, its location, and its condition. RFID tags can be read from a distance of several feet, depending on the type of tag and reader being used.
Types of RFID Tags
There are two main types of RFID tags: active and passive. Active RFID tags have a power source, such as a battery, that allows them to transmit signals over long distances. Passive RFID tags do not have a power source and rely on the radio waves emitted by the RFID reader to power them. Passive RFID tags have a shorter read range than active tags but are generally less expensive.
Benefits of RFID for Asset Tracking
Implementing RFID technology for asset tracking can provide numerous benefits to organizations. One of the most significant benefits is increased accuracy and efficiency in inventory management. RFID tags can be read quickly and accurately, allowing organizations to monitor the movement of assets in real-time. This can reduce errors and improve the speed of inventory management processes.
RFID technology can also improve asset utilization by providing insight into how assets are being used. This information can be used to identify areas where assets are being underutilized or overutilized and to make adjustments accordingly. Additionally, RFID technology can improve supply chain management by providing visibility into the movement of goods and materials.
Omni-ID, a leading provider of industrial RFID tags, offers a comprehensive range of award-winning passive tags for tagging, tracking, monitoring, and alerting purposes, catering to diverse industries and sectors. These solutions provide optimal performance, specifically designed for a range of identification needs in asset tracking, material flow management, and compliance.
Here are some of Omni-ID's assert tracking products, offered by Hitec International:
Exo Tags
The Omni-ID Exo range is a highly durable solution designed to withstand harsh environments. These encased RFID tags boast a small footprint while providing unparalleled ruggedness. The Exo tags are considered the most durable passive tags available in the market.
The Exo range has a unique design that underwent rigorous compression-, torque-, and crush-testing, resulting in a "sledgehammer proof" RFID tag. Omni-ID maintains strict testing protocols for all their tags to ensure they perform reliably in real-world situations and extreme conditions.
FiT Range Tags
For those in need of an asset management solution that can operate in high-temperature environments and fit into small or narrow spaces, Omni-ID offers the FiT range of passive single-use RFID tags. These tags offer the highest size to performance ratio in the industry and are some of the smallest, lowest profile tags available. The FiT range also provides the flexibility of on/off metal performance and the ability to embed at the point of manufacture, all while surviving cycling applications at temperatures of up to 235°C (455°F).
High-temperature tags are an ideal and cost-effective solution for ensuring consistency and reliability during the rigors of auto manufacturing, particularly through paint shops and processes. The FiT range allows users to identify and track individual vehicles, tools, or small items of equipment throughout a variety of manufacturing processes, from assembly to painting, welding, molding, and even in industries such as healthcare or covert surveillance.
IQ Range Tags
The Omni-ID IQ labels are a fundamental range of low-profile and printable on-metal RFID labels that are ideal for tracking IT assets in data centers and offices. This includes office computers, equipment such as furniture, and small returnable transport items (RTIs). The IQ labels offer great flexibility with their print, peel, and stick capabilities available in both discrete and roll-to-roll labels, making asset management simple, cost-effective, and efficient.
The IQ range of tags is complemented with global frequency, high-temperature capabilities, and balanced performance. These tags come in various sizes and read ranges, broadening their application potential for customers seeking a solution for manufacturing, warehouses, hospitals, laboratories, and weaponry. With their diverse applications, the IQ labels offer a valuable asset management solution for a range of industries.
Investing in advanced tools for asset and inventory management can help businesses avoid costly operational issues. By automating manual data collection tasks, time is saved and uninterrupted production is supported. This results in greater visibility and data-driven decision-making, which is essential for businesses seeking to stay competitive in today's market.
If you're looking for asset tracking solutions for your business, HITEC International Corp is a trusted provider of asset information and inventory management system products.
To learn more about how HITEC can assist your business, please call us at (632) 8724-0191. Our team is ready to help you optimize your asset management system and improve your bottom line.