Facial recognition security systems have come a long way since it first came to market several years ago. Initially plagued with technical challenges and widely viewed as a futuristic solution, facial recognition is now firmly implanted in numerous consumer and business products and applications.
In the wake of the "new normal" brought about by the COVID-19 pandemic, touchless access control security, including facial recognition, became more in-demand. COVID-19 is a highly infectious respiratory illness that can be transmitted from person to person. It is commonly spread through large respiratory droplets that are expelled when an infected individual coughs or sneezes, or through physical contact from one surface to another. If proper protocol is not followed, surfaces can become infection hazards, including touchpads and fingerprint scanners. Should you or an employee use these security systems, and then touch your face, mouth or nose, you become at risk of also being infected.
This is where facial recognition security comes to the fore. Compared to general touchless security systems, a facial recognition system goes several notches higher – it can provide both physical and health security.
Suprema Thermal Camera
Featuring the Suprema Thermal Camera – this state-of-the-art facial recognition system can provide access control security and general health detection to your business premises, all in one neat package.
The Suprema FaceStation 2 with Temperature Detection combines Suprema's face recognition terminal with Suprema Thermal Camera to detect users with elevated skin temperature, thereby effectively blocking access to potential health hazards.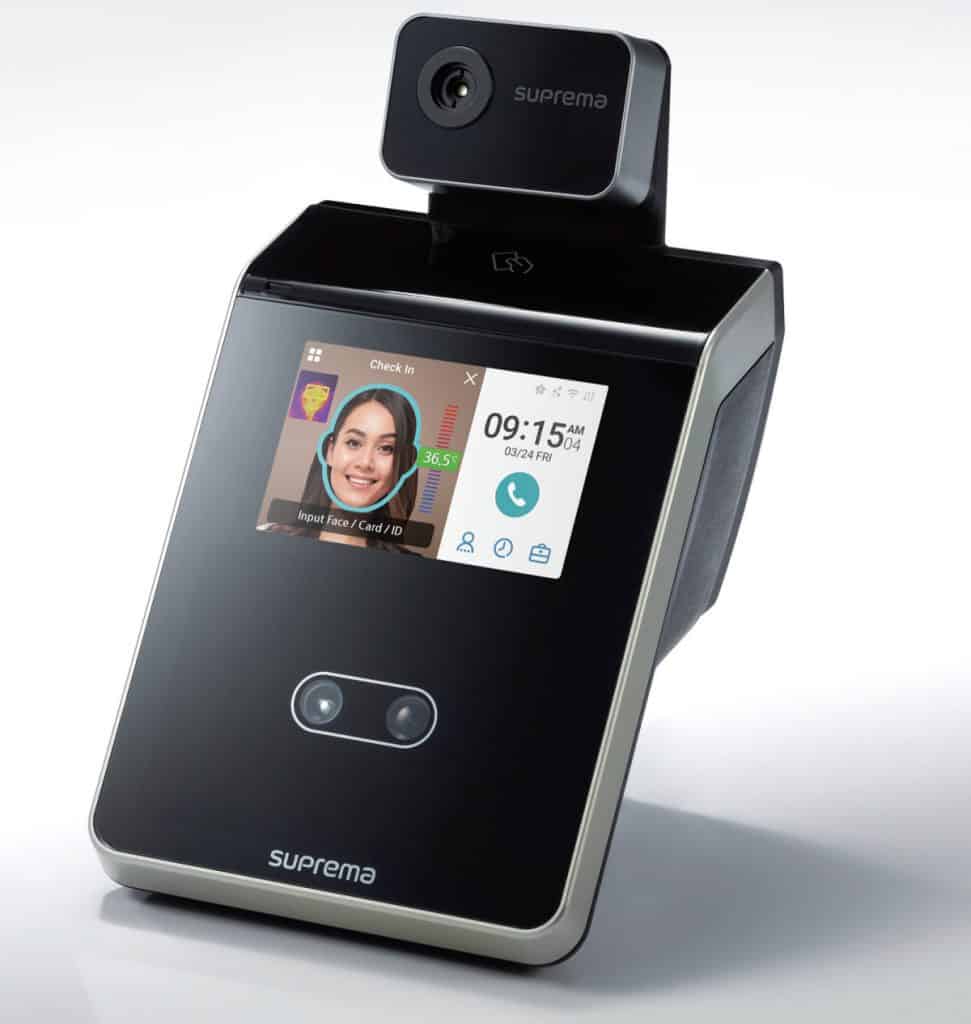 Its main features include:
Enhanced security and safety
Combination of face recognition and skin temperature measurement
Audio and visual alerts with optional alarm
Bypass mode for skin temperature measure only
Temperature data can be optionally saved as event logs
Accurate temperature measurement
Enhanced accuracy by measuring from upper face area designated by FaceStation 2
Fast and precise measurement using thermographic camera with 19,200 pixels per frame
Does not require reference blackbody to measure temperature
Easy deployment
Easy connection with FaceStation 2 via USB
Comes with a bracket for convenient deployment on new and retrofit installs
Ergonomic design for convenience
Supports extended height range of 145 cm–210 cm for face recognition
and distance of 40 cm–80 cm for temperature measurement
Intuitive GUI for notifications
Temperature can be displayed both in Celsius and Fahrenheit
Even before the COVID-19 pandemic, the touchless nature of facial recognition as an access credential was gaining traction with physical and cyber security professionals. Using an individual's face as an access control credential eliminates the need for physical cards or PIN codes. Facial recognition readers, such as the Suprema Thermal Camera, meet the new emerging need to limit physical exposure to germs by offering a highly accurate touchless access control.
Find out more about the Suprema Thermal Camera and its diverse features that will help you enhance physical and health security in the workplace. Call Hitect International at 0917 844 6331 | 0998 999 3543 for more information.