Restrooms, particularly those in commercial businesses and public areas, are designed to be multifunctional and inclusive spaces that provide a range of shared benefits to people in the community. Restrooms are supposed to be a safe and serviceable public amenity. However, most public restrooms are reported to encounter security problems. Since it is easily accessible and free from surveillance, restrooms can also be a recurring place for illicit activities and crimes such as vandalism, drug selling, robbery and sexual assault.
Having a restroom access control solution is crucial to guarantee security, privacy and customer convenience. In order to avoid felonious acts inside, restrooms should install lockable exterior doors to control access and eliminate security risks. Built-in controls or codes are given to customers or authorized staff members to obtain access to the restroom. This new solution makes public restrooms usable and safe for many people.
In Which Industries/Business Types Is This Useful?
Restroom access control is beneficial to certain industries or business types, which include:
Corporate companies
Government organizations
Hospitals
Malls and retail shops
Restaurants and food service establishments
Schools
Gas stations
Hotels and resorts
Condominiums and buildings
What Are the Options for Controlling Restroom Access?
There are several options for controlling restroom access. These include:
Keyed Locks

Key-controlled locks are the most typical solution for restroom doors, wherein customers are handed out with loan keys temporarily for restroom access. This option is low-priced and accessible to customers. The downside of this option is the grueling routine for employees who are assigned in handing out and retrieving the keys to customers and also the tendency for lost or stolen keys, requiring lock replacement and rekeying.

Keypad Locks

A keypad lock is another common option for restroom doors. It includes a keypad code that will be given out to customers (usually printed on the receipt) who request to use the restrooms. It is more convenient and hassle-free than keyed locks. The only disadvantage of this option is that keypad codes can be shared from person-to-person so regular password change is required.

Token-Operated Locks

A token-operated lock is derived from the traditional "pay token" method, in which a custom token-operated lock is equipped on every restroom door. It requires a metallic token in lieu of keys and codes, provided exclusively to a single customer who requests for restroom access.

Remotely-Operated Locks

Remotely-operated locks involve installation of electric lock equipment on all restroom doors and a remote door release button is built on every customer service section. To request for access, the employee must press the button to unlock the door for a specific time of 60 to 120 seconds.

Touchless Locks

Touchless solutions like the use of video surveillance systems and automatic door operators can also be effective for restroom access. This option requires a particular software with push buttons or installation of surveillance cameras in corridors or adjoining areas of the restroom. The access door will only be unlocked when the customer is standing near the restroom area.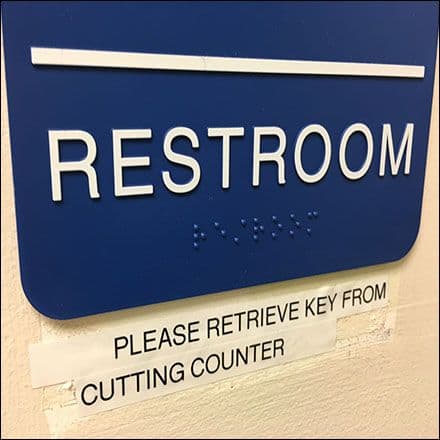 What Is the ELID Customer Toilet Access System?
ELID's Customer Toilet Access System (CTAS) is an up-to-date solution that provides contactless access authentication. It utilizes QR code technology to keep restroom access under control.
QR codes serve as permits for restroom access, which are generated through third-party point-of-sale (POS), or registry systems upon customer transactions.
ELID's CTAS is valuable to businesses because it is cost-effective, it boosts customer satisfaction, and also reduces health risks.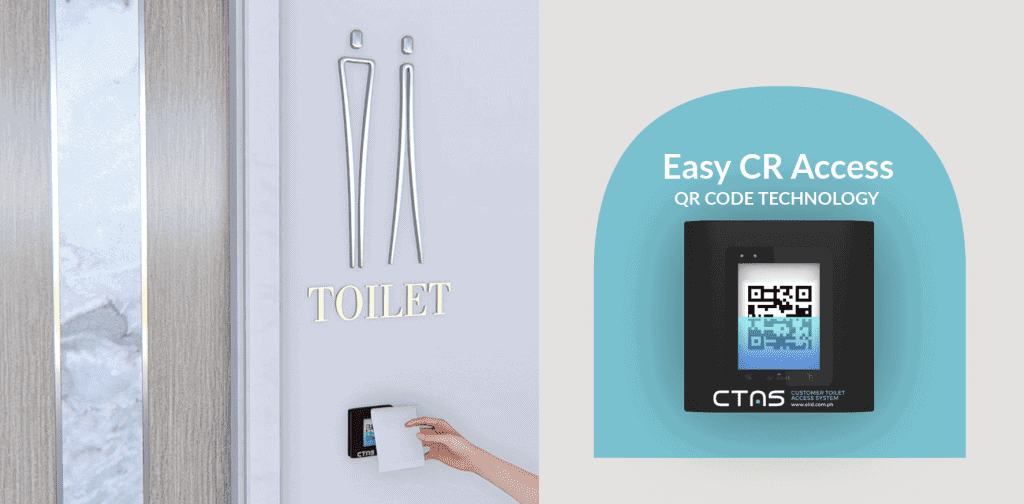 Main Features
CTAS has several features for restroom access, including:
Contactless

QR code technology delivers contactless and fast access to prevent long queues and minimizes waiting time. For employees, restroom access can be done through their smartphones. Meanwhile, customers can gain access via generated QR codes printed on their receipt.

Standalone

CTAS has an easy installation process due to its standalone control system that does not require any network connection or integration to POS.

Customizable

It has a well-designed custom firmware that can go with QR code data format. Its convenient configuration is accessible via web-based menus and Wi-Fi networks.
Benefits
CTAS provides various benefits to all industries and business types. These include:
Higher Profits

CTAS helps increase business profits through its time restriction feature. With time restrictions, it can control overstaying customers, prompting them to buy products or services if they intend to stay longer. This results in a surge of sales and revenues.

Efficient Maintenance

It can reduce maintenance costs by limiting toilet access, which results in minimal usage of hygienic essentials and prolong restroom restorations.

Improved Sanitation and Health

With controlled access and limited restroom usage, CTAS helps in reducing physical contact and risk of virus transmission and diseases.
A Restroom Access Control Solution is a worthy investment for businesses as it provides safety and convenience to public restrooms, due to its modern controlled doors and monitoring equipment. With its exceptional features, it can eliminate security risks compared to conventional key and lock approaches, and its access control activities can easily be managed within the vicinity.
HITEC International Corp. is the leading provider of access control systems in the Philippines. We offer state-of-the-art security solutions with reliable integrated building management systems. Call us at (632) 8724-0191 to learn more about our access control system products.