Businesses often face some challenges associated with a payroll management since it involves many complex tasks, so having a cloud-based payroll management system is essential.
Payroll software provides a centralized platform that automates and manages all payroll activities, such as employee payments, labor taxes, and organizational assets.
The integration of payroll system software allows for more efficient tracking of employee data, attendance, and salaries compared to manual payroll.
Processing payroll by hand is a lengthy process since it requires an entire team to handle payroll and accounting operations without using software, resulting in potential errors in calculations.
On the other hand, payroll system software helps streamline payroll management to comply with tax laws and reduce costs and errors in operations.
What are the Advantages of Using Payroll System Software?
Investing in robust payroll system software is an ideal investment for businesses regardless of their size, as it provides numerous benefits to employees and the company at large. These include:
a. Cost-Efficient
Payroll system software is cost-effective since it helps reduce operational costs by streamlining the payroll process and minimizing errors. Through payroll system software, businesses can save a great deal of money, enabling them to invest in additional salaries and fees that will help expand the business.
b. Accuracy
The payroll software minimizes the risk of human errors, such as incorrect data entry and the omission of formulas. The software is equipped with automated features for accurate payroll calculations and can adjust payroll based on any business changes, such as bonuses and tax deductions or reductions.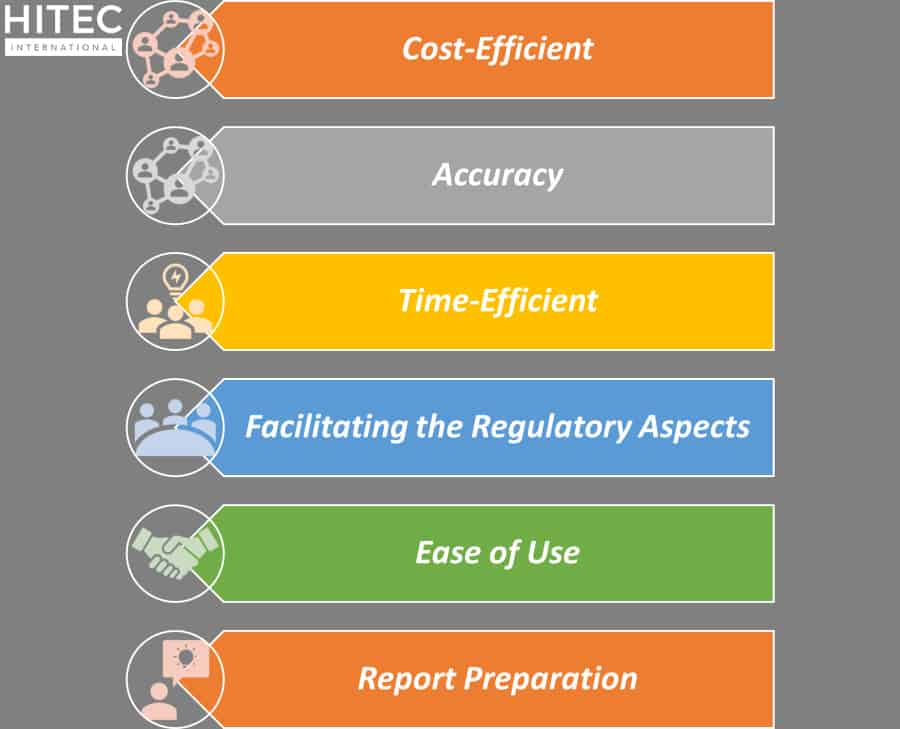 c. Time-Efficient
The payroll system software has the advantage of simplifying payroll processing and cutting down on processing time, allowing employees to concentrate on other aspects of the business. Using payroll software's automated features helps to speed up all facets of the payroll process.
d. Facilitating the Regulatory Aspects
It takes a lot of effort and time to calculate monthly taxes and deductions and submit legal transfers, especially since these tasks might result in unreported losses and inaccurate statements resulting in financial penalties. By using payroll software, you don't need to keep track of the latest laws, amendments, changes, and tax returns since updates take place automatically.
e. Ease of Use
Payroll system software provides a user-friendly interface and a payroll process that enables employees to configure different features, options, and modifications easily. A complete range of payroll accounting entries, such as attendance records, lost wages, and salary structures, are easily accessed, along with ready-to-print payslips and bank transfer statements.
f. Report Preparation
A payroll system software can generate various reports, such as reconciliation reports, PT reports, MIS reports, ad-hoc and custom reports, and customized salary declarations and registers.
PayCheK Payroll System Software
The PayCheK cloud-based payroll system in the Philippines is equipped with intuitive technology that enables instant payroll processing from virtually any location at any time.
PayCheK has the following system requirements:
Processor: Intel Xeon 3.0 GHz or equivalent or higher
Hard Disk: 200 GB SSD
Memory: 16 GB RAM or Higher
Operating System: Windows Server 2012 or later
Browser: Microsoft Edge, Google Chrome, Opera, Mozilla Firefox, Safari
Here is a complete list of the PayCheK Payroll modules:

The PayCheK payroll system software seamlessly integrates with the entire CheK HRMS Suite, including TimeCheK Time Attendance and IDenChek HRIS, allowing users to access data at any time.
IDenChek HRIS - PayCheK provides easy access, analysis, and reporting of human resource information.
TimeCheK Time Attendance - It offers all the controls and information required for managing employee attendance, including payroll and attendance monitoring.
PayCheK Payroll System - This software automates payroll calculations and easily complies with government regulations
Employee Self-Service Portal - It enables employees to manage their own time and reduces the HR management workload.
Payroll management is one of the most challenging aspects of running a business. Thus, it is vital to utilize appropriate technology to enhance employee productivity.
The use of payroll software is an effective solution to increase business efficiency through cost savings and allows a business to concentrate on its core business activities.
If you are looking for efficient and easy-to-use payroll system software for your business, check out Hitec International. We provide a wide range of reliable business management products, such as the CheK HR Management System.
To learn more about Hitec International products, you maycall us at (632) 8724-0191 or e-mail us at info@hitec.com.ph.