Running a business or an organization can get very demanding. Aside from tending to your clients, you also have to manage your employees. One vital part of human resource management is timekeeping to manage payroll and easily monitor employee absenteeism.
These days, attendance checking can be automated with human resource systems (HRMS) through digital logins and biometrics. However, computer systems are still at low risk of glitches. In turn, this may lead to discrepancies between the records in the system and the actual attendance. To help bridge the gap, employers and administrators can now integrate notification systems into their HRMS. This allows users to verify their attendance when they enter the building or premises.
In this article, we will explore notification systems and how they can enhance time and attendance monitoring.
What is a Notification System for Attendance Monitoring?
A notification system uses both computer and human components to send out timely messages about important updates to recipients. Through this, users can get updates about their logins to ensure their attendance has been verified and recorded in the system.
What Are the Benefits of a Notification System?
Notification systems can be integrated with HRMS and access control systems to enhance attendance monitoring functionality. Through this integration, businesses can access benefits such as:
Real-Time Updates: Through the notification system, users can receive timely updates through text messages, allowing them to quickly verify if their logins have been recorded in the system.
Simplified Team Monitoring: The notification system allows employers or administrators to easily monitor and keep track of who is on duty or on leave.
Reduced Payroll Errors: By providing employees messages verifying their attendance, they can easily keep records of their logins, allowing them to easily crosscheck discrepancies should there be glitches in the systems.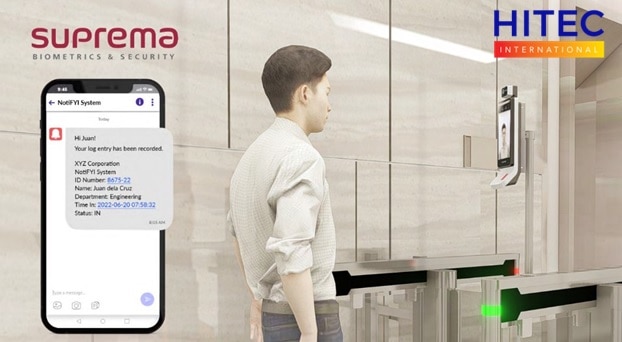 NotiFYI: The Notification System for Enhanced Attendance Monitoring
NotiFYI is an SMS/MMS notification system that sends instant messages as users log in and out of building premises.
How Does NotiFYI Work?
NotiFYI works when employees enter or exit a building or premises using their ID. This ID can either be QR codes, RFID cards, fingerprints, or facial recognition. The data recorded through the turnstile gates will then trigger NotiFYI. In turn, the system will send out messages informing the employees of their log entries. Recipients can receive these updates through SMS, MMS, or Viber.
NotiFYI System Specifications:
Integration to time & attendance via message alerts
Licensing
Subscription-based (monthly or annual)
Perpetual
Sim module
What Are the Features of NotiFYI?
NotiFYI offers various features designed to enhance its overall functionality. These include:
SMS Notification: NotiFYI sends timely SMS or MMS notifications to the recipient, notifying them of their turnstile in and out success validation.
Admin Module: This allows employers or administrators to enroll users and manage their data. This is where admins can input information, such as the user's name, department, and ID number. In addition, they can also record the mobile number and Viber account where the messages will be sent.
LED Monitoring: NotiFYI offers a web-based and network-based module where admins and users can access the system within their online network. Additionally, this feature also allows users to see their details on-screen when they pass through the turnstile gate.
Who Can Use NotiFYI?
NotiFYI can be beneficial to companies and organizations across different industries, which include:
Commercial and Business Establishments: Business owners and employers can integrate NotiFYI to easily track the ins and outs of employees, providing reliable data on employee attendance.
Residential Condos and Private Villages: NotiFYI can also help enhance security within their vicinity by monitoring residents who are coming in and out of the premises. In turn, this could help minimize the risk of unauthorized people entering the premises.
Schools and Government Offices: NotiFYI can track students and employees entering and leaving the premises. Timely monitoring can help discourage students from cutting classes, and employees from going out during work hours.
What Are Its System Integrations?
NotiFYI is compatible with different systems and security options for a better user experience.
ID options: NotiFYI can be triggered by logins and logouts using different ID options, including QR codes, fingerprints, facial recognition, and RFID cards, such as the Omni-RFID offered by HITEC.
Access Control Systems: NotiFYI can be integrated with different access control and security systems, such as the Suprema biometrics and DDS-integrated security solutions.
HR Management Systems: NotiFYI can be integrated with numerous HRMS, like the CheK HRMS, to streamline their time and attendance monitoring.

NotiFYI seamlessly integrates with various systems and security preferences
Streamlining operations, especially when it comes to employee management, is vital to keep the business running and maximizing productivity. With an advanced attendance monitoring system in place, businesses and other organizations can be assured of accurate timekeeping. In turn, this can help minimize record discrepancies and reduce the risk of time theft.
NotiFYI SMS/MMS Notification System is the latest addition to HITEC International's range of solutions. By providing real-time updates to users about their logs, it can offer an innovative solution to easily monitor time and attendance, and reduce errors in payroll. HITEC International is a premier security and HR management solution provider for businesses and organizations across different industries. Send us a message or call us at 8724-0191 to learn more about NotiFYI and all our other solutions for companies and organizations.